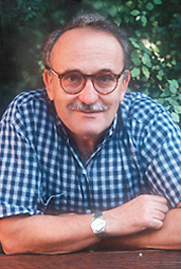 I was born in Budapest in 1937, and have been living in Vienna since December 1956. In addition to my photographic education I studied at the University of Agriculture in Vienna.
Since the beginning of the 1960´s I have been working as a freelance photographer and since the 1980´s I have been the vice-president of the Austrian Press Photographers Association.

My images have been published in leading international magazines such as Ambiente, Harpers Bazaar, Cosmopolitan, Merian and Geo among many other publications.

Exhibitions: Vienna, Bratislava, Sarajevo, Odessa, Kiev, Sofia, Bucharest, Istanbul, Zagreb, Vilnius, Krakow, Riga, Washington D.C., New York, Buenos Aires, Hamburg, …

As the photographic author of numerous coffee table books historic sites as well as landscapes and city portraits are the focus of my work.

Next to aesthetic and atmosphere, my main objective is to photographically tell the story which lies behind the pictures.